Writing Koji Code¶
Getting Started Hacking on Koji¶
This page gives an overview of the Koji code and then describes what needs to change if you want to add a new type of task. A new task could be for a new content type, or assembling the results of multiple builds together, or something else that helps your workflow. New contributors to Koji should leave this page knowing where to begin and have enough understanding of Koji's architecture to be able to estimate how much work is still ahead of them.
Koji is written to support a variety of platforms and python versions, with some portions of Koji supported over a larger set than others. When making changes, please be considerate of those Supported Platforms.
Task Flow¶
A task starts with a user submitting it with the Koji client, which is a command line interface. This contacts the hub, an apache-based server application. It leaves a row in the database that represents a "free" task, one that has not been assigned to a builder. Periodically, the builders asynchronously ping the hub asking if there are any tasks available, and at some point one will be given the new task. The hub marks this in the database, and the builder begins executing the task (a build).
Upon completion, the builder uploads the results to the hub, including logs, binaries, environment information, and whatever else the task handler for the build dictated. The hub moves the results to a permanent shared storage solution, and marks the task as completed (or failed). During this whole time, the webUI can be used to check up on progress. So the flow of work is:
Client

 

->

 

Hub

 

->

 

Builder

 

->

 

Hub



If you wanted to add a new build type or task that was tightly integrated in Koji's data model, you would need to modify the CLI, Hub, Builder, and WebUI at a minimum. Alternatively, you could do this with a plugin, which is far simpler but less flexible.
Tasks' states are following:
FREE - Task was created and waits in the queue

OPEN - Task was grabbed by some builder and is running now

CLOSED - Succesffuly finished task.

CANCELED - Task which was either manually cancelled or some sibling task already failed, so it would be wasteful to continue with this one so parent task will cancel it.

ASSIGNED - Task can be manually (admin) assigned to specific builder bypassing channel policy. This behaviour can be forbidden via policy, so in some instances this could be unreachable state.

FAILED - Task failed from some reason (typically build process failed)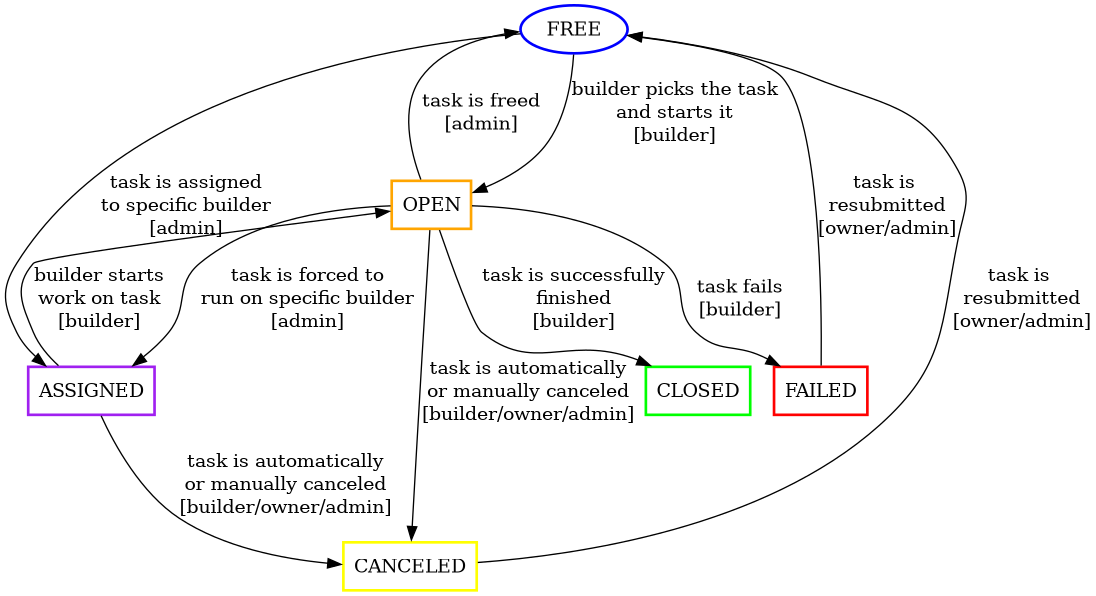 If task is OPEN it starts with task's starting weight which is different for different task types. Every builder has some set capacity according to its resources and can accept new task only if sum(weight) < capacity. Furthermore, task's weight is further increased based on statistics from previous runs and current running time, so you can sometimes see that builder's load is above its capacity.
Tasks which are currently waiting on some of its subtasks have its weight temporarily ignored and they are effectively sleeping. (getTaskInfo API call returns all these values).
Note, that cancelling task doesn't immediately stop it. Builder is polling hub and only in the upcoming call it will acknowledge that some of tasks it is running was cancelled meanwhile. Only in that point it will kill the corresponding thread and run cleanup routine. Nevertheless, it is the implementation detail as cancelled task will not affect anything in the db/filer as its data get cleaned.
Component Overview¶
Koji is comprised of several components, this section goes into details for each one, and what you potentially may need to change. Every component is written in Python, so you will need to know that language beyond a beginner level.
Building and Deploying Changes¶
The root of the git clone for Koji code contains a Makefile that has a few targets to make building and deployment a little easier. Among them are:
tarball: create a bz2 tarball that could be consumed in an rpm build

rpm: create Koji rpms. The NVRs will be defined by the spec file, which is also in the same directory. The results will appear in a noarch directory.

test-rpm: like rpm, but append the Release field with a date and time stamp for easy upgrade-deployment
Submitting Changes¶
To submit code changes for Koji, please file a pull request in Pagure.
https://pagure.io/koji/pull-requests
Here are some guidelines on producing preferable pull requests.
Each request should be a coherent whole, e.g. a single feature or bug fix. Please do not bundle a series of unrelated changes into a single PR

Pull requests in Pagure come from a branch in your personal fork of Koji (either in Pagure or a remote git repo). Please use an appropriately named branch for this. Do not use the master branch of your fork. Also, please be aware that Pagure will automatically update the pull request if you modify the source branch

Your branch should be based against the current HEAD of the target branch

Please adhere to PEP8. While much of the older code in Koji does not, we try to stick to it with new code

Code which is imported into CLI or needed for stand-alone API calls must run in both 2.6+ and 3.x python versions. We use the python-six library for compatibility. The affected files are:

cli/*

koji/__init__.py

koji/tasks.py

koji/util.py

tests/test_lib/*

tests/test_cli/*

Check, that unit tests are not broken. Simply run make test in main directory of your branch to check both python2/3 compatible-code. Or you can also use make test2 or make test3 target for each of them.
Note that the core development team for Koji is small, so it may take a few days for someone to reply to your request.
Partial work¶
Pull requests are for changes that are complete and ready for inclusion, but sometimes you have partial work that you may want feedback on. Please don't submit a PR before your code is complete.
The preferred way to request early feedback is to push your changes to a your own koji fork and then send an email to koji-devel AT lists.fedorahosted.org requesting review. This approach is one step short of a PR, making it easy to upgrade to a PR once the changes are ready.
Unit Tests¶
Koji comes with a small test suite, that you should always run when making changes to the code. To do so, just run make test in your terminal.
You will need to install the following packages to actually run the tests.
glibc-langpack-en

make

python3-cheetah

python3-coverage

python3-dateutil

python3-mock

python3-multilib

python3-pytest

python3-psycopg2

python3-qpid-proton

python3-requests

python3-requests-kerberos

python3-requests-mock
Please note that it is currently not supported to use virtualenv when hacking on Koji.
Unit tests are run automatically for any commit in master branch. We use Fedora's jenkins instance for that. Details are given here: Unit tests in Fedora's Jenkins.
Further testing¶
Currently we automatically build two versions of rpms in Fedora's Copr. First one is simple "master" branch and is available here. These RPMs are early release candidates before we tag each final release. Second one lives here and contains the "master" branch with all the in-progress pull requests that have "testing-ready" flag. Both repos are built once per four hours if there are new changes in pagure.
Code Style¶
We are using flake8 to check the code style. Please refer to .flake8 to find the PEP8 and extra rules we are following/ignoring.
You will need to install the packages below to run the check.
python-flake8

python-flake8-import-order